How To Handle Back Pain For Employees?
Views: 145 Author: Site Editor Publish Time: 2022-07-14 Origin: Site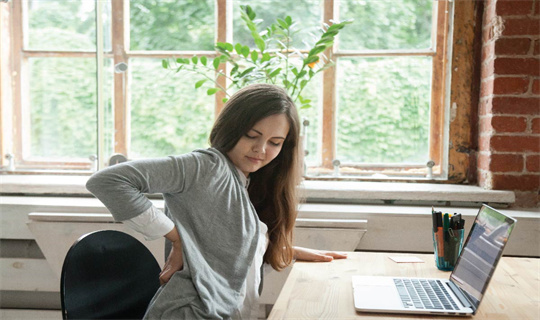 Before people learn how to cope with back pain, they should know more about the cause. There are several tips for handling this problem in the following article.
First of all, we should know that the reason why does work causes back pain? It is undeniable that office work will lead to back pain if employees work for a long time. There are a large number of factors which will contribute to back pain. For example, wrong posture and seating positions are very common.
When employees spend eight or more hours every day, it is more likely to suffer from back pain. Thus, if you want to have a healthy body, you should be careful and patient. For instance, you can purchase a fitness massage gun to do some exercise.
Then, after you have already known about the basic information, you should learn some skills to keep you from back pain. Hence, instead of highlighting this in the workplace, plenty of employees want to alleviate pain without altering their current surroundings. Thus, they can purchase a power massager gun to make this come true.
1. Office workers should align their bodies with their chairs.
If you ask me, a misaligned spine is one of the major causes of back and neck pain. When sitting for a long time, it is hard for workers to resist the desire to curl up. However, you need to sit up straight so as to keep your ears and shoulders in one vertical line. They should be aware of postures that may awkwardly contort the body, such as crossing the legs unevenly while sitting. It is ideal for you to prepare a neck and shoulder massager at your workplace.
2. Office workers should move several times or on a regular basis.
If you're spending eight or more hours a day with a specific degree angle, you should stand up and move to relax. It is good for them to take a walk to the restroom, stretch, and do some exercises.
With a standing desk, office workers can rotate between standing and sitting periodically. If you're at a sitting desk only, you have to make sure that you should stretch your bones and muscles at least twice a day. Of course, you can use the best massager for shoulder pain to mitigate tiredness.
Generally speaking, exercises for back pain that are helpful enough can be completed at your desk include:
Seated Spinal Rotation: You can cross your arms over your chest and grab your shoulders and rotate your upper body. In addition, you can twist gently.
Seated Back Extensions: You can sit straight with your feet together on the floor and place the palms of your hands onto the back. Last but not least, you can lean back over your hands and gently stretch your lower back, which can also be realized by a massage gun.
Posterior Shoulder Stretch: By doing this, you can hold one arm across your body tightly and pull your elbow in to your chest so as to better relax your body. You can repeat this process.
3. Office workers should wear good footwear.
As is known to all, high heels and elegant dresses are very common at the office. However, they're utterly not suitable for your back. Office workers especially females should keep their feet balanced so as to better decrease the stress on the lower part of your back. Of course, if you have to wear high heels, you can purchase a cordless neck and shoulder massager to mitigate your fatigue.
4. Office workers should bring soothing accessories like a shoulder massager.
Without any doubt, if office workers want to be as comfortable as possible at work, they need external factors to help them such as a massage cushion. Therefore, it is necessary for them to do some exercise when they are at home by using a vibrating shoulder massager.
If you work in a spacious office, you can use essential oils to achieve this objective. As far as I am concerned, the deep tissue neck and shoulder massager can have the same impact on human bodies.