How to Choose the Best Electric Shoulder and Neck Massage Equipment?
Views: 157 Author: Site Editor Publish Time: 2022-02-17 Origin: Site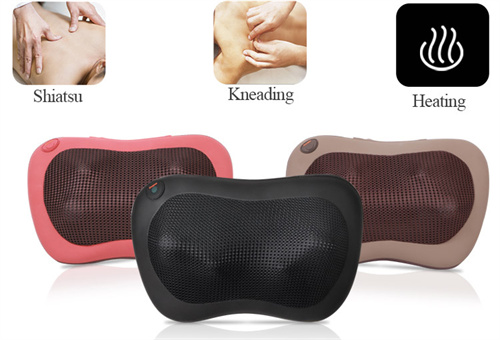 The shoulder and neck massager is a product specially designed for neck and shoulder The neck massager mainly promotes the blood circulation through vibration or beating massage, so as to achieve the effect of relieving fatigue.
Precautions for

P

urchasing an

E

lectric

M

assager
The electric motor massager is more suitable for health massage and middle-aged and elderly people because of its higher vibration frequency and weaker vibration intensity. The vibrating shoulder and neck massager is more suitable for sports massage and middle-aged and young people because of its slow vibration frequency and higher vibration intensity. In addition, the electric neck and shoulder massager is suitable for weight loss massagers, because high-speed vibration can accelerate fat decomposition.
The use of electric massager for neck and shoulders has advantages and disadvantages for the elderly. Taking too long will backfire. Some elderly people with chronic diseases should not use it. The principles of various massagers are the same. They all use high-frequency mechanical vibration to irritate the human body, promote the blood circulation in the stimulated part, and accelerate the metabolism of the tissue in that part. Various parts of the elderly begin to age, and most of them suffer from deterioration of body functions such as osteoporosis and vascular aging. Massage equipment is generally based on vibration massage. Long-term use will stimulate the soft tissues of the elderly and even cause the small joints of the spine.
When purchasing a 3D shiatsu neck and shoulder massager, we should choose a massager with a smooth and beautiful appearance, no scratches, good hand feeling, and not easy to slip off. In addition, products with various massage heads should be purchased to suit different parts of the massage. The overall appearance of a lovely shiatsu neck shoulder massager includes its design style. The style should conform to modern fashion trends. The design and development capabilities of the brand can generally be seen in the appearance of the massager.
A high quality neck & shoulder massager must have a uniform sound when working, and the fit of its internal parts is quite good. On the contrary, a poor massager must have a lot of noise due to its large fit gap and loose parts.
Try to buy high-quality brand-name products. Consumers must choose a big brand or a big mall to buy the rated neck and shoulder massager so that the quality of can be guaranteed. It is not possible to purchase products that do not indicate the manufacturer, address, telephone number, and trademark.
When using automatic shoulder massagers, you must clearly use the method to avoid some harm to the body.
With the changes in work style and pressure, cervical and lumbar spine problems have almost become a common phenomenon among people. At this time, it is very necessary to choose a electric massager for shoulder and neck pain.