Can a Neck and Shoulder Massager Relieve Neck and Shoulder Pain?
Views: 156 Author: Site Editor Publish Time: 2022-02-27 Origin: Site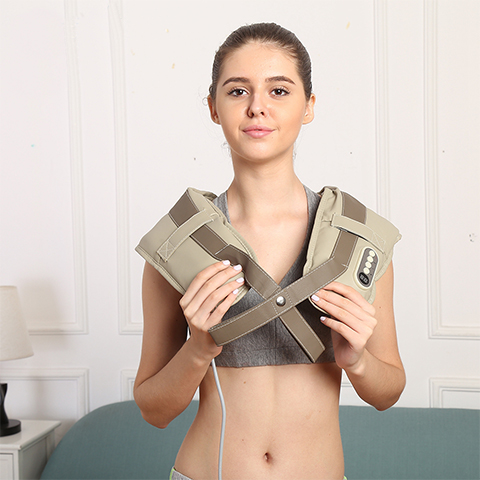 A lot of people need to sit and work in front of the computer for a long time every day. When they go home after get off work, they like to watch dramas and shop online. Over time, the cervical spine is more or less sick. Maybe they will often feel stiff neck and sore shoulders and backs. A slight movement of the neck will make a clicking sound. Many people say this is cervical spondylosis. In this case, you should buy a neck and shoulder massager. The effect is pretty good. It is understood that the neck & shoulder shiatsu massager can indeed relieve fatigue and relax muscles, but it has no therapeutic effect on neck and shoulder problems.
The kneading neck and shoulder massager mainly massages the shoulder and neck joints to relieve the fatigue of the cervical spine. Generally speaking, the discomfort of our cervical spine is due to changes in the physiological curvature of the cervical spine. Changes in the physiological curvature of the cervical spine may cause pain due to compression of peripheral nerves and blood vessels, dizziness caused by insufficient blood supply to the head and other symptoms. Rhythmic thumping massage can accelerate blood circulation, relax tired muscles, improve the nerve and immune system functions. But the electric massager for neck and shoulder is only a temporary relief. There are many treatment methods, and you need to make specific choices according to different situations. If the tolerance is poor, massage, physical therapy, medication, ointment, etc. can be used.
The heated shoulder and neck massager can be used on any part of the neck, shoulders, waist and legs. Beating away muscle soreness brings you unprecedented comfort and health. This product is based on the concept of Japanese Taiko drums, and at the same time creates a new drum-style rhythmic beating massage, with a comfortable embracing design that fits the body curve, giving you a more comprehensive, better effect, and more varied relieving and relaxing massage.
At present, neck and shoulder massagers mainly include neck hanging type and shawl type.
The neck-hanging neck-and-shoulder massager is similar to earphones and is easy to carry when traveling. Low-frequency pulse current stimulates muscles, relieves pain and promotes the blood circulation. Some massagers have massage stickers to massage other parts.
Shawl-style neck and shoulder massager is a type used at home. It simulates beating and kneading by a real person through a machine. It is suitable for massaging multiple parts of the body. It is also a good idea to give it to the elders in the family as a gift.
All in all, there are various styles of shoulder and neck massagers. It can relieve fatigue and relax muscles. However, the neck and shoulder electric massager and handheld massager for neck and shoulder are only a temporary relief, and cannot completely treat the pain related to the cervical spine.