Do Old People Need Eye Massager?
Views: 155 Author: Site Editor Publish Time: 2022-04-14 Origin: Site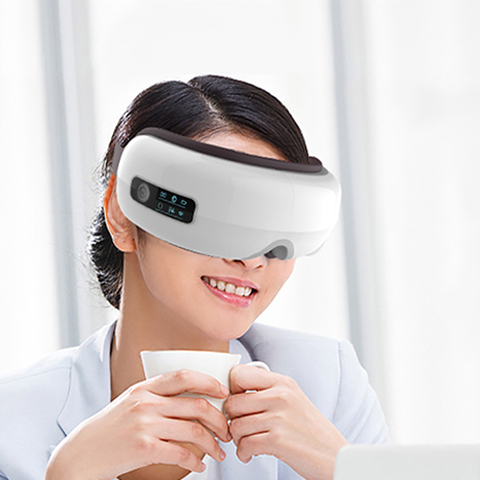 Smart eye massager is an instrument developed by combining modern eye massage theory and the principle of traditional Chinese medicine cosmetology. It is specially designed according to the high and low contour of the eye and the different acupoint distribution. Eye massage adopts physical therapy. Relax the eyes by massage and hot compress around the eyes. If you insist on using it, you can alleviate eye fatigue in a short time, prevent myopia, and improve the sleep quality.
Why Do Old People Have Eye Fatigue?
For many middle-aged and elderly people, suffering from presbyopia is very normal. This natural phenomenon can make it difficult for them to see things up close with eyes. What's more, if they keep staring at an object for a long time in a state of presbyopia, they will experience extreme eye fatigue and even cause problems such as migraines. Under such circumstances, eye diseases of the elderly also occur frequently, so reasonable eye maintenance is very necessary. Eye massage devices that provide heating or comfortable materials can help them relax the eye muscles and eyes well.
How to Carry Out Vision Care for the Elderly

?
Maintain an Optimistic and Stable Mood
The elderly need to learn to self-regulate their emotions and maintain an optimistic and cheerful mood, which is of great significance for the eye health care. Because violent emotional fluctuations are easy to induce eye diseases such as glaucoma and acute optic neuritis, which will seriously affect visual function and lead to blindness. Also, using electric eye massagers or vibrating eye massagers to relax is really helpful to the eyes.
Eye Health Massage
The elderly adhere to eye health massage which helps to increase and improve the eye blood circulation, relieve eye fatigue, and improve vision. At the same time, some eye massage can even eliminate eye wrinkles and achieve beauty effect. We recommend using eye massager wands or wireless eye massagers.
The modernly designed eye massager has different preset massage options to meet the massage needs of different groups of people. Portable eye massager is undoubtedly one of the magic weapons to relieve eye fatigue. The proper air compression makes the eye massager the best tool for the elderly to use for relaxation. The high-end eye massager is even equipped with MP4 speakers, allowing the elderly to get dual healing of body and mind in soothing music.