How to Choose a Good neck and Shoulder Massager?
Views: 231 Author: Site Editor Publish Time: 2022-02-03 Origin: Site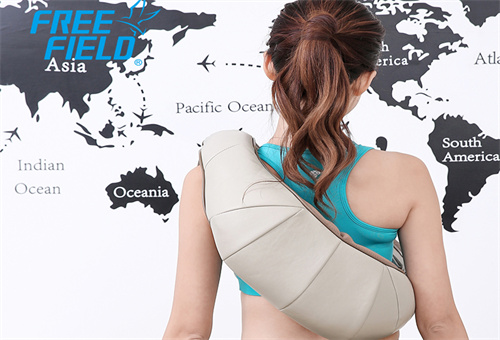 What are the precautions for choosing a good neck and shoulder massager?
Nowadays, people are more and more concerned about physical and mental health. However, the pressure of daily life will inevitably affect our body and mind. Stress is often concentrated on sensitive parts of the body, such as the neck and shoulders. If stress is not relieved and treated, the following symptoms will occur, including migraine, pain, and general fatigue.
Neck and shoulder massagers are very helpful for releasing pressure and reducing shoulder and neck pain. But many people don't understand their function and actual effect. Taping around the shoulders and massaging the neck and shoulders can speed up the blood circulation system, which will reduce some problems in the neck.
Vibrating shoulder and neck massagers can improve the blood circulation system, relax tight muscles, improve the function of the nerves and the human immune system and eliminate fatigue.
Precautions before buying
1. Refer to the experience of different users
The criterion for purchasing a personal neck and shoulder massager is whether it can release pressure and relieve pain and its effect. In fact, we cannot accurately assess how individuals feel about muscle pain. At this time, listening to the opinions of others is the key. Different users can express their true feelings about the use effect of the massager. You can listen to these opinions, watch product tests and personal preferences to choose the right massager.
2. Refer to the type of neck and shoulder massager
In terms of form, massagers are divided into active massagers and passive massagers. Electronic massagers are all passive massagers. The advantage is that it can be massaged comfortably by plugging in or lying down or sitting. Active massager refers to a massager that needs to be used actively which require human actions to cooperate with it.
From the perspective of the energy source used by the massager, massagers are divided into energy-consuming massagersand natural massagers. Most passive massagers are energy-consuming massagers, such as massage pillows and massage chairs.
Generally speaking, the massagers we have mainly include smart neck and shoulder massager, handheld shoulder massager, and shiatsu heated neck and shoulder massager.
3. Refer to the price of massager
The price of ordinary home neck and shoulder massager basically does not exceed the budget. The multifunctional shoulder and neck massager mainly has electric performance, rechargeability, deep tissue massage and so on.
4. Pay attention to its aesthetics and style
Although the appearance is not the most important factor when you buy a shoulder and neck massager, a massager with exquisite appearance and well-design is suitable to be placed at home or office. In addition, a high-quality neck and shoulder massager should be easy to operate to relieve pain. This way we can give it as a gift to the elderly at home.