What Are the Benefits of an Air Compression Leg Massager?
Views: 146 Author: Site Editor Publish Time: 2022-01-20 Origin: Site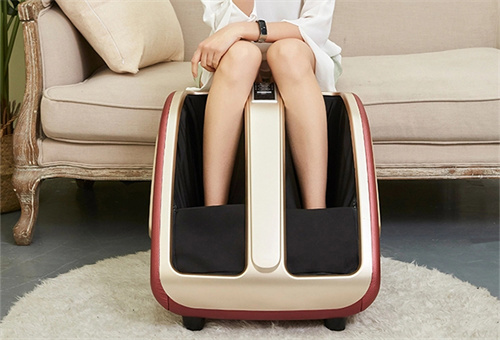 After a busy day of life, legs and feet will experience varying degrees of fatigue. A shiatsu foot massager appeared in the relief of foot problems. Compression leg massagers have also appeared in terms of alleviating leg problems.
The foot calf massager is more suitable for thicker muscles, such as the back of the calf. In some cases, the leg massager cannot be used. For example, in acute joint sprains, it is urgent to stop the internal blood. At this time, using a power leg massager will only cause severe swelling of the affected area and heavier internal bleeding. Moreover, the time and strength of using the shiatsu foot and calf massager also need to be controlled, otherwise, it will endanger the health and cause soft tissue damage.
An air compression leg massager applies pressure to the legs to help stimulate blood and lymph circulation in the legs. Knead foot massager can relieve pain caused by fluid or tension in the lower body.
Benefits of

A

ir

C

ompression

L

eg

M

assager

s
A leg massager can help you deal with leg swelling and leg cramps. The foot relaxing station is good for promoting blood circulation in the lower body. It is understood that blood and lymph circulation may be blocked for many reasons. These reasons include inconvenience due to the increased physical activity and sedentary lifestyle and poor posture. The foot and leg compression massager stimulates blood vessels and helps relieve pain and soreness. An air compression leg massager can quickly and easily relieve the swelling of your legs and feet.
The air compression leg massager surrounds your legs and feet and compresses them like a pair of tight boots. Once you wrap it on your leg, it will begin to expand and contract rapidly, thereby changing the pressure on the muscles. Enough pressure can help you remove waste from the cells of your legs and feet. You can manually select and change the applied pressure.
The magnetic therapy and health care of some foot massagers mainly use its health magnets to generate a magnetic field and use the action of magnetic force to stimulate the feet. It promotes blood circulation in the feet and improves the magnetic field of the human body to achieve the purpose of health care.
The foot massager also has a water wave impact function. It should be known that the impact of water waves mainly uses the water waves sprayed by the nozzles to form a three-dimensional massage on the legs. It can run the meridian blood and promote blood circulation. At the same time, it can also prevent high blood pressure, hyperlipidemia and insomnia.